20 things You Missed at Heavy Montreal 2015
20 things You Missed at Heavy Montreal 2015
1. Metal Babies


We know that you will no doubt become a great human being when you have been throwing horns in the air at metal festivals since the tender days. We saw dozens of metal babies spread throughout the festival with super cool moms and dads who were providing lessons in superb riffage. Some of them were in groups shoulder riding while saluting 'the metal' in the air. Mom and dads were also mindful of the SPLs (sound pressure levels) making sure that the little tikes had aviation grade hearing protection for their precious little ears.
2. Marriage proposal in the sky
Marriage proposal in the sky at @heavymtl #HEAVYMONTREAL2015 \m/ pic.twitter.com/8UZXGwJ0D2

— CHOM 97.7 Montreal (@CHOM977) August 8, 2015
Haters can hate all they want, but Ben Kowalewicz and team pulled off a strong set at Heavy Montreal 2015. Just passed the halfway point in their set someone sent a marriage proposal across the sky. "Jessica Will You Marry Me: Karim" read the banner being carried by a small airplane during the 'Running Across The Tracks'. We still don't know who Karim is or if Jessica said yes, but it certainly was a bold and potentially expensive way to impress a lady.
3. 70,000 tons of hot tub


Behind the risers (VIP terrasse), there was a bridge backstage which lead to the secret VIP area where drinks were half price and everyone in the industry, including artists, chilled on couches. The fine folks from 70000 tons of metal were on hand with a hot tub for those who wanted to unwind with friends after a long day of moshing in the sun. The skipper Andy Piller himself was on hand to greet guests. You could sit in with a drink om hand and hang with the metal babes which included Kim Dylla (Vulvatron, ex-GWAR). 70,000 tons of metal came prepared with a rinsing station, bathing suits for guests, and wrapped hygienic towels. As long as you were VIP, and the tub was not hosting a band interview, you were welcomed aboard.
4. Fan climbs on stage and sings with Motionless In White

We've all felt that urge to climb onto the stage and jam with our favorite band, however few actually go for it. To attempt this at a mega festival like Heavy Montreal is indeed a ballsy move. One lucky fan managed to somehow get over the barricade and land himself on stage with Motionless In White. The fan looked awkward and confused for a moment until a stage manager dressed in black tried to usher him off stage. While being escorted off, lead singer Chris Cerulli interrupted, put his arm around the intruder and handed off the mic, effectively embodying the spirit of metal and giving one fan the experience of a lifetime.
5. The pit of Lamb of God
I (as in Dagmar, since it's been Darrell writing) learned from Heavy Montreal 2014 that if you were to mosh in one pit, do it at LOG's. After a weekend of collecting stories and photographing, I made it clear I was going to put everything away for one show. 30 minutes before their set begun at 9:00pm, the space in front of Scene Heavy was looking 75% full. T minus 10 minutes, three heavy bass riffs came from the empty stage – everyone fired up. T minus 8 minutes, I spotted my friend Lynn in the crowd. We have not hung out all year long since the last Heavy MTL, and knew that we were going to share this 1hr 15 mins of LOG together in the pit. As the sun set halfway into the set, Randy Blythe demanded "I wanna see the biggest circle pit Montreal has ever seen right now, right here!" The circle pit expanded to be the width of the stage and a hose from the barricade rained down at the runners as they got their cardio on. I bumped into someone I photographed from the day before, who was so charged for LOG, he told me, "I spent $3000 to see LOG! $200 for the ticket and $2800 to travel here from Nunavik, rent a car, and get hotels." After the show, the guy sitting next to me in the 70,000 tons hot tub was another one of the Nunavik crew…

6. The group of 20 men from Nunavik who spent a small fortune


After plunging into the sexy 70,000 tons of metal hot tub, I encountered a gentleman from Inukjuak, QC, a village in Nunavik in northern Quebec. Not to be confused with Nunavut, it is the northernmost settlement in Quebec and the northernmost settlement of any province (not including territories) in Canada. He told me that 20 friends traveled over 2000 kilometers each to make the trip from their home town and surrounding areas to Montreal. Inukjuak has no roads linking the village to the rest of the continent, therefore the cost of the journey was over $3000 per person. With a median income which is half that of the national average, it's clear that these metal heads worked hard to experience the metal vacation of a lifetime.

7. The underrated Sandveiss set on Scene De La Foret

We took the time to listen to every band before heading down to Parc Jean-Drapeau. This little known band from Quebec City had just opened for High On Fire and Megadeath at Festival D'ete and sounded promising so we added them to the list. Sandveiss did not disappoint. Ripping through some heavy pounding stoner riffs including a cover Pentagram's 'Forever My Queen' (who were forced to cancel late July due to Canadian laws), they drew the largest crowd we saw all weekend on Scene De La Foret. Sandveiss remind me of Montreal band Priestess who are now unfortunately defunct.
8. Heavy Mania wrestling
OMG OMG! Heavy Mania @heavymtl is getting serious #wrestling#legit#heavymtlpic.twitter.com/0y9O60RexO — The Scene Magazine (@thescenemag) August 9, 2015
To the left of the Scene Apocalypse stage was a little path which took you out to a wrestling area that seemed to be out of place upon first inspection. After checking out Devin Townsend I ended up haphazardly passing by the uneventful wrestling ring for the third or fourth time but by now there was a full on wrestling match taking place. A crowd of 40-50 people surrounded the ring as two wrestlers proceeded to heat things up. Before anyone knew it, they were into the bleachers and onto the ground. Things escalated quickly before the battle got under control and ended up back in the ring. At the end of their act, the ref got a beat down. Bravo, crew!
9. Satan in the flesh


This guy spent a few hundred bucks and endured hours of makeup applications to encapsulate the spirit of Satan. He took photos with fans for free all day long, simply because it was enjoyable. Can anyone say "turn it up to 11"?
10. Hammocks and phone charging lounge


Down a dusty path, somewhere between the main and smaller stages was a strangely inviting resting point sponsored by Molson. The area had comfy hammocks, chairs, refreshments, cell phone charging stations and good people.
11. La Musee de rock n roll


Between the hill and the main stages was an area where various companies were showing off merch and products etc. One of the coolest installations here was the Musee Mobile from La Musee de Rock N Roll. The Museum is a non-profit company that showcases the history of Rock n Roll in Quebec. They currently have an exhibition on display called Ere Metal (a history of metal in Quebec) at their head location 2222 Ontario Street E Montreal.
12. Respectable, instinctively formed single-file lines at washrooms


Look at this motherfucking organized pieced of shit! A single-file line right in front of a row of porter potties. Let's face it, metal heads respect individual space. When you can take dozens of 200-something pound jacked up dudes mixed with dozens of skinny metalheads and throw them into a pit together with zero injuries, you know you have a scene where people respect and look out for each other. The washrooms at Heavy Montreal were no exception. Without any instruction, people politely lined up and waited their turn to use the loo.
13. A random disco ball


Behind the VIP terrasse, on the road leading to the back stage and secret VIP area were two moving head lights spotlighting a random disco ball, which was situated across the pond, near artist world, below the bridge Pont De La Concord. There was an area set up with giant beanie bags where couples laid down while watching the reflections from the disco ball and the moon light glisten off the water.
14. People of the forest


There where some neatly groomed forest areas, where you could go to cool off and not be bothered during the day. These quiet areas tended to be the perfect chill zones for those wishing to partake in darker sins.
15. Pyramid of beer cans


Cue: "Started from the bottom…" A group of friends from Ontario decided to build a pyramid out of the beer cans they emptied throughout the day and offer it to the gods of recycling.
16. Corn of Quebec butter style cajun


There were many yummy eats available at the festival, from fruit cups being waitressed around the general grounds, to hearty meals from food trucks. However nothing compared to the corn of Quebec we found in VIP. Super fresh, tasty, and mind-blowingly simple, there was no reason to order anything else at the end of the day and at $2.50 a cob how could one go wrong.
17. Crimson Shadows guy


Wacken Metal Battle Canada is a yearly battle of the bands in which one indie band is crowned champion and sent oversees to represent Canada at Wacken Open Air, the largest metal festival in the world. In 2013, Toronto's Crimson Shadows were the first Canadian band to win. They went on to compete against winners from other countries and won in Germany as well, placing Canada's metal scene on the map. Seeing a Crimson Shadows t-shirt at Heavy Montreal, was inspiring.
18. More T-shirts galore


For those looking for street cred or simply wanting to express themselves, t-shirts were the answer. As with all metal festivals, the difference between a friend and a stranger, is a nod of the head or a mellark (devil horns) in reaction to a favorable tee. While no one noticed my Mono shirt on day one, plenty of horns were thrown towards my Rolling Stones Quebec tee on day two. I saw plenty of shirt repping bands from the Heavy MTL's of years' past.
19. Recyclable drink cups


There has been tons of hype regarding garbage left behind at festivals lately. So to avoid or at least minimize this easy PR grab that mainstream media love, Evenko has initiated a return policy. For both Osheaga and Heavy Montreal, you pay an extra $2 when ordering your first beer, which could be returned to you if you return the cup later. For the rest of the day you get refills which cost $2 less than that first beer. Simple, effective, and genius. I guess we won't be seeing any nasty after pictures of Heavy anytime soon.
20. Mist Metal Fans


We're talking about real physical mechanical fans that have water hooked up to them and spray out a fine cool mist. These fans were placed in various areas throughout the grounds, talk about refreshing!
BONUS: This guy at Devin Townsend!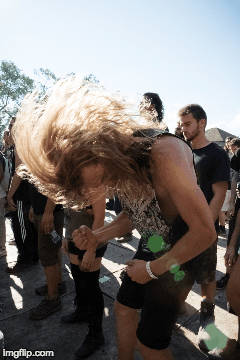 Darrell Shelley
THE SCENE