Saturday, August 8, 2015
Ritual's energy was pure insanity Saturday night as Ottawa welcomed A Skylit Drive's Michael Labelle back home. Spectrasonic put on a hell of a show as usual with locals Vesuvius (playing their first show), Violent Tides and Of Reverie opening the night and getting the crowd ready.
Vesuvius opened the show with their debut single "This House Is Not A Home" with the band's merchandise manager Chris Law contributing a vocal guest spot. Vesuvius have been quickly on the rise after taking a break from their previous band Of Burning Empires – and I do hope to see them out more often. Also, props to frontman Billy Melsness for killing it on vocals.
Violent Tides continues to prove how pissed off they are, and the crowd fed off it. It's as if vocalist Kevin Bastien took a whole bunch of rage pills before going up due to his consistent stage stomping and high pitch screams – which just fuelled the intensity of the crowd. Playing a few covers including A Ghost Inside, Violent Tides definitely impressed me in a way they hadn't before.
Of Reverie's sets are always something to look forward to – and it is still unfortunate that they don't play many local shows, but it makes it so juicy when they do. Saturday's show was the first to feature their new screamer Jared Blanchette, formerly of Of Burning Empires and who will be appearing on the band's upcoming full length absolutely crushed through the set, especially on "Parallels" and "Echoes". The latest single the band released, "Voice of the Fallen" had another guest contribution from A Skylit Drive's Michael Labelle – something we all hoped would happen. "Echoes" still stands as one of Ottawa's best post-hardcore songs with the breakdown "FUCK YOU AND FUCK ALL OF YOUR FRIENDS", which furthered the most pits that were incredibly encouraged throughout the whole show.
A Skylit Drive took to the stage quickly after Of Reverie's closing song and jumped right into tracks off of Rise, the band's 2013 record. I was a fan of A Skylit Drive prior to Labelle's joining, but he definitely makes me appreciate the band so much more. After a thank you to the crowd and the Labelle family – frontman Michael Jagmin and the band slammed into their latest single "Within These Walls", before closing off with "Crazy" and "Rise".
"Crazy", a track I hadn't heard before from the band was definitely my highlight of the show. I do wish they played "Those Cannons Could Sink A Ship", but I'll just have to wait and see them again!
It was hot in Ritual. The crowd was fiery, the bands were killer and the bar area was almost deserted so it was easy access to a icy cold brew – plus we got to welcome Labelle back with some serious headbanging. It was one of Ottawa's better post-hardcore shows recently, for sure.
James Rockso
THE SCENE
She's Funny That Way – Movie Review
Rating: B+ (Very Good)
[youtube id="BqLgfFxQWgw"  width="620″ height="360″]
It's been a while since we've seen Peter Bogdanovich put his director's cap on, but even with his absence from the camera, he has not lost any of his classic film upbringing. She's Funny That Way is a throwback in the best sense of the word. It has the feel of a Woody Allen film by way of George Cukor, but still with Bogdanovich's touch felt throughout. The screenplay captures the dialogue and flow of a classic screwball comedy and seeing how all of the characters intertwine in the Big Apple brings a smile to one's face. The film is so delightfully madcap and the actors do a swell job of capturing the exact tone Bogdanovich was seeking.
The combination of the music and Imogen Poots's exaggerated Brooklyn accent already catapults the audience into what type of movie She's Funny That Way is. Poots brings such a spark to her character of Izzy that she certainly becomes one of the most likeable call girl protagonists in a medium that has a long history of them. She carries the film with her charm and general outlook and it's easy to see why so many of the protagonists become smitten with her. Owen Wilson doesn't depart heavily from his persona in playing stage director Arnold Albertson, but seeing the way he trips over himself as he tries to hide his various infidelities showcases the comedic prowess he's had ever since he broke into the industry with Wes Anderson. There's always a careful decision in how he chooses to mutter a sentence.
However, it's the supporting ladies who provide the bulk of the funny moments. Jennifer Aniston seems at her best when playing unhinged and demented personalities and her psychiatrist's general apathy towards her patients is so delightfully deranged. Kathryn Hahn presents probably the most developed character in the ensemble as she slowly struggles to keep her sanity intact in the midst of all of the insane shenanigans around her. Bogdanovich is able to work with all of his actors in order to gain the proper facial expression. She's Funny That Way is a lot like a play in that part of the fun comes from how the actors bounce off each other, a lot of times in a single location.
One scene in a restaurant with all of the major character converging together has all of the hallmarks of a screwball comedy with Bogdanovich building the scene to one humourous interval after another. A running joke of Albert continually refreshing a classic line about "squirrels to the nuts" and it biting him is also spectacularly handled. Bogdanovich and his co-writer Louise Stratten handle the careful balance of making the comedic situations outrageous while still keeping it in a believable world. Seeing all of these various people and their hijinks ends up being charming and funny, rather than eye-rolling and it's thanks to the strong execution.
This is the sort of old-school throwback to classic screwball comedies (with appropriate comparisons to Peter Bogdanovich's earlier send-up What's Up, Doc?) that deserves a bigger audience and yet will probably only be appreciated by a niche following. It's a comedy that relies on smart interactions and the simple little gags and even with its main character being a call girl, it doesn't rely on gross-out and other typical sex jokes. This is a more sophisticated comedy, which has smile-inducing scenes through the entire runtime. With the cast also putting their comedic talent into the film, She's Funny That Way is a romp-filled pleasure.
Get 4 FREE movies today! With the SCENE® card (Limited Time Offer)
Review By: Stefan Ellison
THE SCENE
Who: Wordburglar
When: Friday, August 14th @9:30pm
Where: Gus' Pub & Grill, 2605 Agricola Street
Tickets: $10
Alphabet soup enthusiast Wordburglar drops his new album Friday night at Gus'. Its been a minute since the extraordinarily clever wordsmith graced us with new tunes, and you can not only finally hear them live this week, but the admission to the show also gets you a copy of the album. Wordburglar is known for what I'll call intricate nerd rap. If you're an 80's or 90's kid, every word that spills from his mouth will sound like gospel to you. Dude released an entire album homage to GI Joe's baddies Cobra for crying out loud! Its a show too good to pass up, so be sure to get out and support the locals.
[youtube id="UdCyXeJf844″ width="620″ height="360″]
20 things You Missed at Heavy Montreal 2015
1. Metal Babies


We know that you will no doubt become a great human being when you have been throwing horns in the air at metal festivals since the tender days. We saw dozens of metal babies spread throughout the festival with super cool moms and dads who were providing lessons in superb riffage. Some of them were in groups shoulder riding while saluting 'the metal' in the air. Mom and dads were also mindful of the SPLs (sound pressure levels) making sure that the little tikes had aviation grade hearing protection for their precious little ears.
2. Marriage proposal in the sky
Marriage proposal in the sky at @heavymtl #HEAVYMONTREAL2015 \m/ pic.twitter.com/8UZXGwJ0D2

— CHOM 97.7 Montreal (@CHOM977) August 8, 2015
Haters can hate all they want, but Ben Kowalewicz and team pulled off a strong set at Heavy Montreal 2015. Just passed the halfway point in their set someone sent a marriage proposal across the sky. "Jessica Will You Marry Me: Karim" read the banner being carried by a small airplane during the 'Running Across The Tracks'. We still don't know who Karim is or if Jessica said yes, but it certainly was a bold and potentially expensive way to impress a lady.
3. 70,000 tons of hot tub


Behind the risers (VIP terrasse), there was a bridge backstage which lead to the secret VIP area where drinks were half price and everyone in the industry, including artists, chilled on couches. The fine folks from 70000 tons of metal were on hand with a hot tub for those who wanted to unwind with friends after a long day of moshing in the sun. The skipper Andy Piller himself was on hand to greet guests. You could sit in with a drink om hand and hang with the metal babes which included Kim Dylla (Vulvatron, ex-GWAR). 70,000 tons of metal came prepared with a rinsing station, bathing suits for guests, and wrapped hygienic towels. As long as you were VIP, and the tub was not hosting a band interview, you were welcomed aboard.
4. Fan climbs on stage and sings with Motionless In White

We've all felt that urge to climb onto the stage and jam with our favorite band, however few actually go for it. To attempt this at a mega festival like Heavy Montreal is indeed a ballsy move. One lucky fan managed to somehow get over the barricade and land himself on stage with Motionless In White. The fan looked awkward and confused for a moment until a stage manager dressed in black tried to usher him off stage. While being escorted off, lead singer Chris Cerulli interrupted, put his arm around the intruder and handed off the mic, effectively embodying the spirit of metal and giving one fan the experience of a lifetime.
5. The pit of Lamb of God
I (as in Dagmar, since it's been Darrell writing) learned from Heavy Montreal 2014 that if you were to mosh in one pit, do it at LOG's. After a weekend of collecting stories and photographing, I made it clear I was going to put everything away for one show. 30 minutes before their set begun at 9:00pm, the space in front of Scene Heavy was looking 75% full. T minus 10 minutes, three heavy bass riffs came from the empty stage – everyone fired up. T minus 8 minutes, I spotted my friend Lynn in the crowd. We have not hung out all year long since the last Heavy MTL, and knew that we were going to share this 1hr 15 mins of LOG together in the pit. As the sun set halfway into the set, Randy Blythe demanded "I wanna see the biggest circle pit Montreal has ever seen right now, right here!" The circle pit expanded to be the width of the stage and a hose from the barricade rained down at the runners as they got their cardio on. I bumped into someone I photographed from the day before, who was so charged for LOG, he told me, "I spent $3000 to see LOG! $200 for the ticket and $2800 to travel here from Nunavik, rent a car, and get hotels." After the show, the guy sitting next to me in the 70,000 tons hot tub was another one of the Nunavik crew…

6. The group of 20 men from Nunavik who spent a small fortune


After plunging into the sexy 70,000 tons of metal hot tub, I encountered a gentleman from Inukjuak, QC, a village in Nunavik in northern Quebec. Not to be confused with Nunavut, it is the northernmost settlement in Quebec and the northernmost settlement of any province (not including territories) in Canada. He told me that 20 friends traveled over 2000 kilometers each to make the trip from their home town and surrounding areas to Montreal. Inukjuak has no roads linking the village to the rest of the continent, therefore the cost of the journey was over $3000 per person. With a median income which is half that of the national average, it's clear that these metal heads worked hard to experience the metal vacation of a lifetime.

7. The underrated Sandveiss set on Scene De La Foret

We took the time to listen to every band before heading down to Parc Jean-Drapeau. This little known band from Quebec City had just opened for High On Fire and Megadeath at Festival D'ete and sounded promising so we added them to the list. Sandveiss did not disappoint. Ripping through some heavy pounding stoner riffs including a cover Pentagram's 'Forever My Queen' (who were forced to cancel late July due to Canadian laws), they drew the largest crowd we saw all weekend on Scene De La Foret. Sandveiss remind me of Montreal band Priestess who are now unfortunately defunct.
8. Heavy Mania wrestling
OMG OMG! Heavy Mania @heavymtl is getting serious #wrestling#legit#heavymtlpic.twitter.com/0y9O60RexO — The Scene Magazine (@thescenemag) August 9, 2015
To the left of the Scene Apocalypse stage was a little path which took you out to a wrestling area that seemed to be out of place upon first inspection. After checking out Devin Townsend I ended up haphazardly passing by the uneventful wrestling ring for the third or fourth time but by now there was a full on wrestling match taking place. A crowd of 40-50 people surrounded the ring as two wrestlers proceeded to heat things up. Before anyone knew it, they were into the bleachers and onto the ground. Things escalated quickly before the battle got under control and ended up back in the ring. At the end of their act, the ref got a beat down. Bravo, crew!
9. Satan in the flesh


This guy spent a few hundred bucks and endured hours of makeup applications to encapsulate the spirit of Satan. He took photos with fans for free all day long, simply because it was enjoyable. Can anyone say "turn it up to 11"?
10. Hammocks and phone charging lounge


Down a dusty path, somewhere between the main and smaller stages was a strangely inviting resting point sponsored by Molson. The area had comfy hammocks, chairs, refreshments, cell phone charging stations and good people.
11. La Musee de rock n roll


Between the hill and the main stages was an area where various companies were showing off merch and products etc. One of the coolest installations here was the Musee Mobile from La Musee de Rock N Roll. The Museum is a non-profit company that showcases the history of Rock n Roll in Quebec. They currently have an exhibition on display called Ere Metal (a history of metal in Quebec) at their head location 2222 Ontario Street E Montreal.
12. Respectable, instinctively formed single-file lines at washrooms


Look at this motherfucking organized pieced of shit! A single-file line right in front of a row of porter potties. Let's face it, metal heads respect individual space. When you can take dozens of 200-something pound jacked up dudes mixed with dozens of skinny metalheads and throw them into a pit together with zero injuries, you know you have a scene where people respect and look out for each other. The washrooms at Heavy Montreal were no exception. Without any instruction, people politely lined up and waited their turn to use the loo.
13. A random disco ball


Behind the VIP terrasse, on the road leading to the back stage and secret VIP area were two moving head lights spotlighting a random disco ball, which was situated across the pond, near artist world, below the bridge Pont De La Concord. There was an area set up with giant beanie bags where couples laid down while watching the reflections from the disco ball and the moon light glisten off the water.
14. People of the forest


There where some neatly groomed forest areas, where you could go to cool off and not be bothered during the day. These quiet areas tended to be the perfect chill zones for those wishing to partake in darker sins.
15. Pyramid of beer cans


Cue: "Started from the bottom…" A group of friends from Ontario decided to build a pyramid out of the beer cans they emptied throughout the day and offer it to the gods of recycling.
16. Corn of Quebec butter style cajun


There were many yummy eats available at the festival, from fruit cups being waitressed around the general grounds, to hearty meals from food trucks. However nothing compared to the corn of Quebec we found in VIP. Super fresh, tasty, and mind-blowingly simple, there was no reason to order anything else at the end of the day and at $2.50 a cob how could one go wrong.
17. Crimson Shadows guy


Wacken Metal Battle Canada is a yearly battle of the bands in which one indie band is crowned champion and sent oversees to represent Canada at Wacken Open Air, the largest metal festival in the world. In 2013, Toronto's Crimson Shadows were the first Canadian band to win. They went on to compete against winners from other countries and won in Germany as well, placing Canada's metal scene on the map. Seeing a Crimson Shadows t-shirt at Heavy Montreal, was inspiring.
18. More T-shirts galore


For those looking for street cred or simply wanting to express themselves, t-shirts were the answer. As with all metal festivals, the difference between a friend and a stranger, is a nod of the head or a mellark (devil horns) in reaction to a favorable tee. While no one noticed my Mono shirt on day one, plenty of horns were thrown towards my Rolling Stones Quebec tee on day two. I saw plenty of shirt repping bands from the Heavy MTL's of years' past.
19. Recyclable drink cups


There has been tons of hype regarding garbage left behind at festivals lately. So to avoid or at least minimize this easy PR grab that mainstream media love, Evenko has initiated a return policy. For both Osheaga and Heavy Montreal, you pay an extra $2 when ordering your first beer, which could be returned to you if you return the cup later. For the rest of the day you get refills which cost $2 less than that first beer. Simple, effective, and genius. I guess we won't be seeing any nasty after pictures of Heavy anytime soon.
20. Mist Metal Fans


We're talking about real physical mechanical fans that have water hooked up to them and spray out a fine cool mist. These fans were placed in various areas throughout the grounds, talk about refreshing!
BONUS: This guy at Devin Townsend!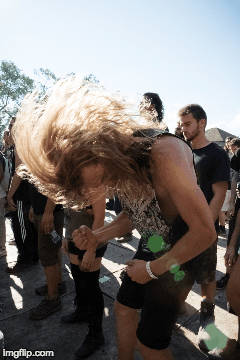 Darrell Shelley
THE SCENE
Fantastic Four – Movie Review
Rating: B- (Okay)
[youtube id="_rRoD28-WgU"  width="620″ height="360″]
Fantastic Four is the sort of film that wants to be different from other entries in its sub-genre, but also secretly wants to be included among them. There is some promise early on of a superhero film more focused on the character's scientific abilities and individual intelligence rather than special powers. It takes a good chunk of the film before the leads even attain their magical attributes. Even then, director/co-writer Josh Trank chooses to go in an interesting direction, opting for possibly a more realistic reaction to their unique and strange skills. It's in the third act that Fantastic Four shifts into something silly and sheds the image it was so interestingly working towards through the bulk of the film's runtime.
A team-up movie should have solid interaction between the characters and cast and the four leads do work well with each other. The screenplay by Trank, Simon Kinberg and Jeremy Slater features some decent banter between the intelligent Reed Richards and adopted siblings Sue and Johnny Storm. They are believable as co-workers and likeable as protagonists. Ben Grimm's friendship with Richards is similarly nicely handled. The actors all embody the Four well, with Miles Teller continuing to show a natural on-screen dapperness. The weak spot in the cast is Victor Von Doom, played by Toby Kebbell without a hint of subtlety. He's an obvious antagonist from the start and his motivations are weak and under-explored. The script completely lets this character down and he's partly to blame for the film's sour final act.
The decision to focus primarily on the Four's scientific exploits allows Fantastic Four to take a more low-key approach than the typical superhero film. Seeing the characters spend a bulk of the first act planning and building a transportation device proves to be genuinely entertaining. Science will occasionally take a back seat to the action, so it's pleasing to see Trank put a lot of attention towards it. He also takes a different approach to how they react to their newfound powers. Trank appears heavily inspired by David Cronenberg body horror films and it's surprising how much he was able to get away with and not attain a more restrictive rating. They react with shock as most people would in their situation. The decision to have the film jump ahead a year later is an odd one and it means the script does not explore them being confused and adjusting to stretching or becoming invisible. It almost feels like a good chunk of the film has been trimmed out, especially with the final cut only running about a hundred minutes.
The cracks of Fantastic Four start to show in the last act, when it immediately plunges the team into a generic superhero film wildly in contrast to the genre-bending of the preceding hour. The design for Dr. Doom looks ridiculous rather than threatening and he's evil simply because the screenplay and source material demand him to be. The action lacks any sort of pizzazz and eventually becomes a mash of unappealing special effects. While The Thing is well-animated, other effects are less successful. The computer work on Reed Richards's stretching looks fake and feels like it came out of a film from ten years ago rather than today. There's even a bit of uncanny valley in one scene where Richards modifies his face. The sudden tonal shift to ridiculous and silly antics ends the film on a rather disappointing note.
Fantastic Four is merely a forgettable affair that feels like it will differentiate itself from the other superhero films on the market and then ultimately aspires to be them with no real build-up. With Chronicle, Josh Trank showed his talent at handling a superhero film in a unique way, but only small elements of that earlier success appear in this sophomore effort. The third act especially affects the rest of the picture and feels like a lot of executive meddling to get it to appeal to the action spectacle crowd. It's easy to see Trank wanting to make a smaller and more intimate Fantastic Four film, but other forces appear to be at play. There is even a briefing scene that shows clips that feel like deleted scenes that will eventually appear on the home video release. The potential exists for a solid film adaptation of the Fantastic Four, as proven by Brad Bird in his own superhero family team-up film The Incredibles and that one remains the best screen incarnation of the Four and their powers.
Get 4 FREE movies today! With the SCENE® card (Limited Time Offer)
Review By: Stefan Ellison
THE SCENE