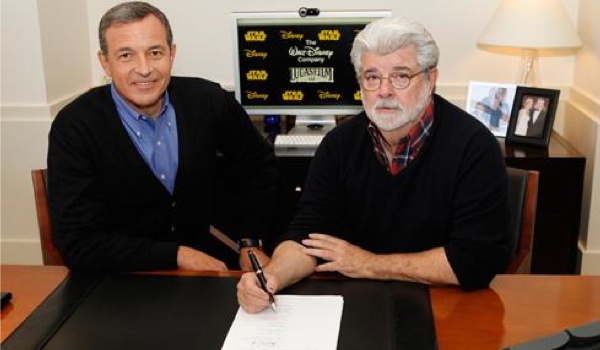 This Tuesday, Disney shocked the movie industry with the unexpected purchase of Lucasfilm — the production company behind the legendary sci fi saga Star Wars. George Lucas, the Star Wars creator and the sole owner of Lucasfilm, has made a deal with Disney to sell the company for $4.05 billion in cash and stock. Aside from that, Disney has also agreed to give Mr. Lucas 40 million of its shares, effectively turning him into the second-largest non-institutional Disney shareholder — right behind the trust of Steve Jobs, the co-founder of Apple.
Back in June, Lucas announced his plans to retire and appointed Kathleen Kennedy as his successor at Lucasfilm. Despite the recent changes, Kennedy will remain in charge of the company, but she will be answering directly to Disney chairman Alan Horn.
Of course aside from owning the Star Wars franchise, Disney will have rights to everything else that belonged to Lucasfilm, including the Indiana Jones franchise, visual effects studio Light & Magic, and video game developer Lucas Arts.
So, what does this mean for the rest of us? Well, it looks like Disney wants to reinvigorate the Star Wars franchise by pushing the brand even further, having already announced the plan to release a new Star Wars feature film in 2015. The new film has so far been dubbed "Episode VII," which implies that the story might take place sometime after Return of the Jedi, the last instalment of the original trilogy. But the news gets even better (or worse, depending on your point of view) — Disney chairman and CEO Robert Iger hopes to release a new Star Wars feature every two or three years.
"We determined we'd be better off as a company to release a sequel to Star Wars than not yet determined films," he said. According to Iger, Star Wars is a "sustainable high-quality content with global appeal."
However, making more Star Wars films is not the only thing that Disney plans to do with the brand. The corporation also plans to increase the amount of money Star Wars generates from licensed merchandise, which includes toys, video games, articles of clothing, and many other things. In spite of its age, the Star Wars brand is still doing rather an impressive job of generating profit. This year alone, the franchise is expected to make over $200 million.
Interestingly enough, Marvel was making roughly the same amount from its superhero-inspired merchandise before being purchased by Disney. Now of course Marvel is generating more profit than ever — all thanks to Disney's influence. It seems like Disney wants to do the same with Lucasfilm. Iger says there is "pent up demand" for more Star Wars movies and TV shows.
However, there has been already been some backlash toward Disney's decision to revive Star Wars as a film franchise. Film critic Leonard Maltin has stated that there are many "unanswered questions" when it comes to the future of the Star Wars movies because it is not a "fresh property," with the actors who portrayed the original characters being either old or deceased. He is unsure as to whether the franchise can be revived successfully without their influence.
Personally, I am not overly excited about this. The brand feels tired — and perhaps even void of new ideas. Furthermore, many Star Wars fans have nothing but distaste for the recent trilogy of Star Wars prequels, the last of which, Star Wars: Episode III: Revenge of the Sith, was released back in 2005. So, aside from reinventing the Star Wars universe to squeeze more stories out of it, Lucasfilm and Disney will also have to find a way to recapture the "magic" of the original trilogy, but not at the expense of fresh ideas.
Disney has not yet revealed any details in regards to the new Star Wars movies, so we will just have to wait and see what their plan is.
By: Taras Trofimov
THE SCENE